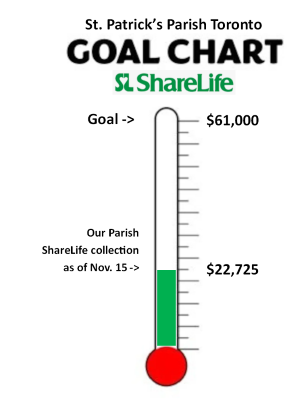 NEW: Your year-end gift will double in value! From now until December 31, your contribution to our parish's ShareLife campaign will be matched up to $500,000.
Through your unwavering support for ShareLife and its Food Security Grants, you ensure families can access meal programs and food banks throughout our archdiocese.
"We are so grateful ShareLife supporters are providing emergency funds to relieve the immediate challenges of families and individuals experiencing hunger," says Louise Coutu, Executive Director of the SSVP Greater Toronto Central Council.
St. Patrick's Out of the Cold (OOTC) program is one of the recipients of a ShareLife Food Security grant of $10,000.00. This funding will significantly help in the program's mission to provide nourishing meals for the vulnerable population of downtown Toronto over the winter season.
Our parish has currently raised [$22,724.35] toward our goal of [$61,000.00]. Double the impact of your kindness by giving at the parish with a ShareLife envelope or anytime at sharelife.org/donate. You can choose our parish from the list indicated on the donations page.
Thank you for your kind generosity!