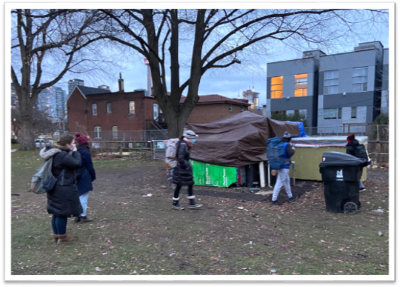 Begun in November 2020, the Winter Street Patrol Program has sought to provide outreach to the homeless community during COVID pandemic, as changes were necessary to offering in person support through Out of the Cold.
The program runs every second Sunday from 3:30 pm - 7:00 pm with 1-3 groups of volunteers walk the streets of Toronto to provide bagged lunches, warm clothing, soup, and medical supplies to individuals who are on the streets. We spend time visiting with our friends who we meet, offering support and ministry of care.
Our evening takes us on about 5km of walking. Volunteers are welcome to participate on any day of the program, either casually on ongoing.
Participants are asked to bring a backpack with 8-10 wrapped sandwiches that are prepared at home. We will assemble lunch bags on-site to prepare for our evening.
Pre-registration is required. Information and Registration available at bit.ly/WinterStreetPatrol-Registration
Dates that Winter Street Patrol will operate are:
November 22 (2022)

December 4, 18

January 8, 22 (2023)


February 5, 19

March 5, 19

April 2
For more information please contact: winterstreetpatrol@stpatrickstoronto.ca