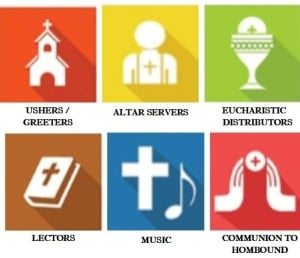 As part of our ongoing formation of Liturgical Ministers a workshop will be held in the near future. The date will be announced soon. Thank you for your patience!
ALL experienced, new and want-to-be liturgical ministers – lectors, extraordinary ministers, hospitality, choir members, sacristans and adult altar servers – are strongly encouraged to attend as part of your formation.
September 24th is Stewardship Sunday and we will consider some of Archbishop Leo's message in his letter on stewardship. We will also be focusing on the liturgy of the Sunday Eucharist as it relates to our lives today and to liturgical ministry in particular. More information will follow.
Following the workshop there will be a series of commissioning (of new or uncommissioned ministers only) for each ministry according to the rite of Celebrations of Installation and Recognition to be held during the Sunday Masses, dates to be announced.