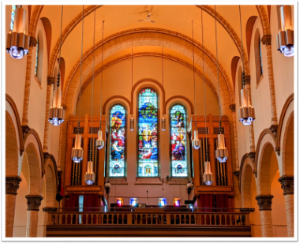 While the poor in our midst are always among our first concern, we also show gratitude for the parishioners who gone before us, both well-off and not well-off, who contributed much to construction of the space in which we worship and that serves this community, and the beauty of it is for all. We show gratitude to our forebears, our parents, grand grandparents, great grandparents, past clergy, all the people who were contributed to the building and upkeep of the church by doing our part to restore and maintain it, and leave our own legacy that will testify to our care of the church entrusted to us.

On to that end, the organ was originally designed with bells, bells that, at least for a couple of decades, have be removed. Through the generous donation of a parishioner, all 25 chimes were purchased in memory of her late husband. Through another parishioner's generous donation, the old electrical wiring was replaced, and the chimes were installed recently, by the regional representative of the Casavant Frères Organ builders, by whom our organ was designed and built, and who's regional representative is now regularly maintaining our organ, built in 1940 and if purchased today would cost approximately $600,000.

So, indeed we are deeply indebted to those parishioners before us and their legacy of faith and love for our parish ...