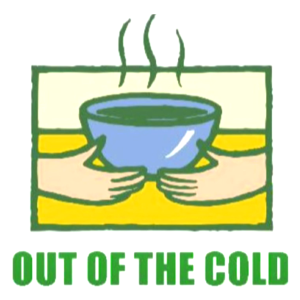 What is Out of the Cold?
St. Patrick's Out of the Cold is part of the cooperative Out of the Cold Program in downtown Toronto. Each winter, many faith and community based organizations band together to ensure that on any night of the week, people can find shelter, a meal and a bed as an alternative to sleeping outdoors and going hungry. St. Patrick's has been a part of this program for about 30 years now and on a regular basis, serves meals to about 250 people and offers overnight shelter for 80 people.
Each week, there are represented many ethnicities, faiths, economic backgrounds, and ages range from 8 to 80. Our guests include homeless men, women and children, single mothers trying to make ends meet, lonely seniors from the neighborhood as well as many others whose stories are all unique. What keeps it running smoothly week after week can only be attributed to the Holy Spirit and a committed group of volunteers who have been doing the job for so long it all usually goes like clockwork. Our volunteers are parishioners as well as Catholics form other parishes and Christians from other denominations, medical students, recovering addicts, people from the street as well as many other groups and individuals.
Out of the Cold is one of those strange ministries in that each year, we hope it will be our last and growth in our numbers is actually a sign of failure. Nobody is under the illusion that soup and a mat on the Church Hall floor is an adequate solution to the crisis of poverty in our city. Yet we keep marching on knowing that for the time being, the best we can offer is our hospitality and a safe, non-judgmental environment.
Due to the COVID-19 pandemic, the program was shut down last March, 2020, as were the other Out of the Cold Programs in the GTA. As a result, we were not able to serve dinner and provide accomodations to our guests at St. Patrick's for the 2020-21 season. However, to help as many homeless guests and people facing food insecurity as possible, we prepared meals at St. Patrick's which were then served by two agencies at their locations by local staff (Good Shepherd Ministries on Queen St. and St. Felix Centre on Augusta St.). We will continue to work with our donors and volunteers to maintain a sense of continuity and respond to the pandemic in the best way possible.
For more information, please contact Julia Pelenyi, Director at ootc@stpatrickstoronto.ca.
To support the Out of the Cold Program, please click here.