Over 150 years : A Mission of the Redemptorists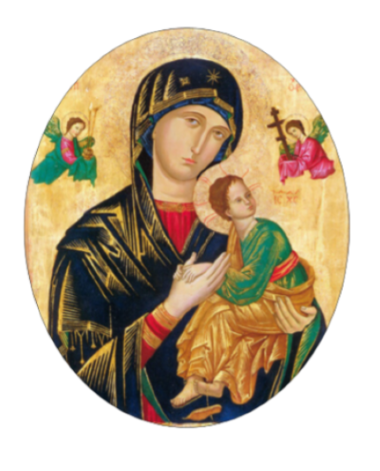 Each week, throughout the world, the faithful gather to give thanks and to offer prayers of petition to Mary, the Mother of Jesus who intercedes on our behalf and who welcomes us as a child of God.
This miraculous icon has become one of the most favoured representations of the Virgin Mary. Perhaps it is because of the simple beauty of its representation. Perhaps it is the loving gaze of Mary upon us, as she holds the Christ child with such tenderness and compassion as He gazes upon the implements of the Passion which He will one day endure. It is with this same tenderness and compassion that draws us to her, who is with us in our day to day life, who is model of discipleship for us in following her Son, and who accompanies us on our journey as a loving Mother.
Since 1866, the Redemptorists have been making Mary known under the title of Our Mother of Perpetual Help. Throughout the world, devotions to Mary have continued to inspire pilgrims to prayer, asking for Mary's intercession and her companionship throughout the journey of their life ...
Mother of Perpetual Help Devotions at St. Patrick's
In 1881, the Redemptorists arrived at St. Patrick's Church in Toronto and have been animating the Devotions to Our Mother of Perpetual Help faithfully for nearly 140 years. The Redemptorists have been entrusted with the care and propagation of devotion to Mary under this special title.
Every Wednesday at St. Patrick's Church - the National Shrine of Our Mother of Perpetual Help- approximately 2,000 pilgrims and devotees across the Greater Toronto Area gather for 6 Masses with Novena devotions, the celebration of the Sacrament of Reconciliation, and for quiet prayer and devotion to our Blessed Mother.
Please click here for the parish schedule of Wednesday Masses with Novena.
"This Jubilee Year is a special moment of grace for us and for all God's people..."
- Fr. Michael Brehl, C.Ss.R., Redemptorist Superior General (On the occasion of the 150th Anniversary of the arrival of the icon of Our Lady of Perpetual Help to the Redemptorists)